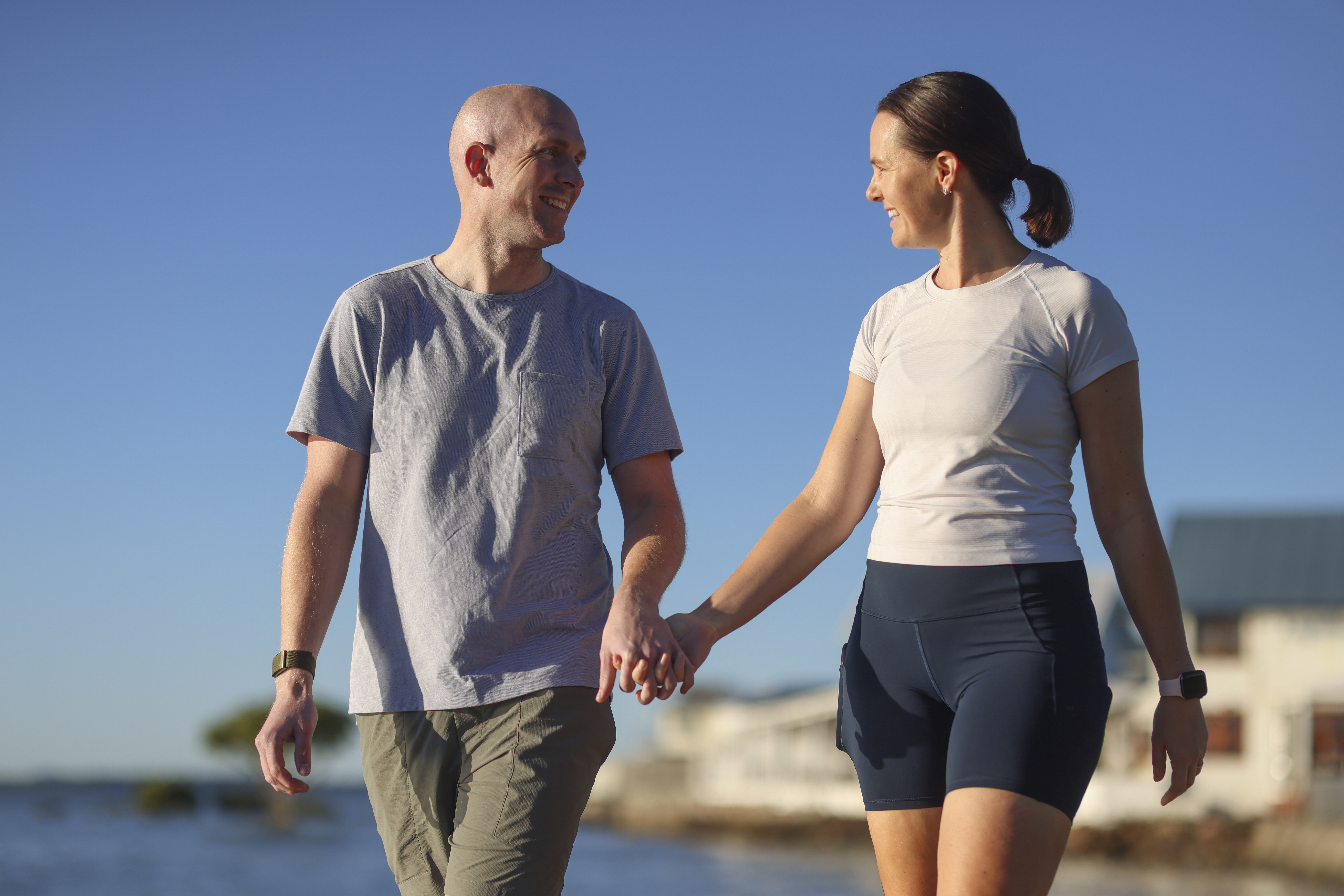 Joel is fast gaining a reputation for being that guy who says "thank you" to cancer. He's quite possibly the most grateful guy you could ever hope to meet.
Little wonder fiancé, Kieren, fell so head over heels in love with him.
Cycle for Cancer is exactly what Joel and Kieren ('KK') do.
In 2016, Joel was diagnosed with a rare type of kidney cancer, Collecting Duct Carcinoma, which inflicts only 60 people globally and has a dire life expectancy. By 2018, after various surgeries, treatments and setbacks, Joel was fast running out of options before a last-gasp trial with a second immunotherapy drug. It worked. In 2019, he met 'KK', who joined the Mater Smiling for Smiddy community after her mum, Julie, underwent a torrid breast and thyroid cancer battle. Sparks flew.
"We've probably been like an old married couple pretty much since the start," KK said. "Our personalities really clicked, and we know what's important in life and what to let go of."
As Joel continues to undertake cutting-edge immunotherapy trials to keep his cancer at bay – unfortunately, without ongoing experimental treatment, it will return.
"The immunotherapy that Joel's on is actually a melanoma immunotherapy and if that wasn't around 10 years ago, he certainly wouldn't be with us today." KK says These drugs that would have assisted Adam Smiddy – it's pretty amazing."
"He's the only one in the world with his type of cancer on that immunotherapy. He said to me strictly, do not google my type of cancer, because there's nothing good on there. So, I haven't.
"It comes back which is the bugger. He'll be on this drug trial until February next year. We're currently in the process of looking at options of new treatment because if he's off treatment for about 9-12 months, it will come back, and that's happened every time now."
"His current medication is a protein blocker so it has some nastier side effects like tummy upsets, he gets severe pain in his hands and feet, he's limited to the amount of walking he can do – how many steps per day he's pretty careful – but he can ride his bike. He doesn't get any pain riding his bike so that's been a massive thing for him with this treatment. It's a bit heavier, it's a bit nastier, but it works."
It's easy to get caught up in your daily grind and the small stuff. I will frequently, but then I'll get reminded of Joel or Mum, and then I'll think 'what am I even worried about?' Life is good."
Joel's message for this year's Cycle for Cancer participants is, in keeping with the man, laced with gratitude.
"Thank you! In a nutshell, it is lifesaving. Put it this way, without people raising funds to provide new research, I wouldn't be here today to tell my story."