Why Smiling for Smiddy
Smiling for Smiddy is more than just a charity; it's a community of passionate individuals committed to making a positive impact. Named in memory of Adam Smiddy, a young cyclist who tragically lost his battle with melanoma, the organization aims to prevent others from experiencing the same pain. By raising funds for cancer research and support programs, Smiling for Smiddy supports vital initiatives that improve treatments, save lives, and offer solace to those affected by this devastating disease.
How Your Donation Makes an Impact: Your contribution to my Smiling for Smiddy fundraiser goes directly toward funding groundbreaking cancer research and providing support services to patients and their families. With your help, we can make strides in developing new treatments, improving early detection methods, and enhancing the quality of life for those facing a cancer diagnosis. Every dollar you donate has the power to change lives, offering hope and creating a brighter future.
Noosa 2023 Goals
Ok, lets start my 2023 Journey with some Goals for this year's tri
1) Fundraising: I want to crack $1000 by the end of June and beat $2500 for this year's event. This will be my biggest total to date!
2) Training: I want to be more prepared for the speed bumps this year, so I want to keep training through winter with core, strength and Endurance. Luckily TechnologyOne are helping me with a gym and the amazing Rob Darley to help coach!
3) Race Day: I want to complete in under three hours as a springboard for Sunny Coast 70.3 in 2024
I am back to take on Noosa Triathlon 2023!
I've committed to being part of Team Smiddy at the 2023 Noosa Triathlon.

That means in November, I'll be taking on an Olympic distance triathlon. That's a 1500m swim, 40km ride and 10km run! Yes, I'll be pushing my body to the limit.

Why am I taking on this challenge?

Partially because I am a true sucker for punishment, but mostly because I'm committed to helping Mater and other organisations on the long, hard road to fight cancer. 

As part of my challenge I'm aiming to raise funds towards ground-breaking research at Mater into the causes, prevention and treatment of various types of cancer.

And this is where I need your help - will you support my fundraising by making a donation today?
Thank you to my Sponsors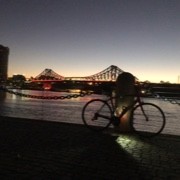 Peter Mccrystal Serene Duff Michelle Langley Anonymous Marjorie Mccrystal Kylie Allen Anonymous Kieran Wallis John Mccrystal Madoka Komine Malcolm Culverhouse Cg Lindsie Timms's Menuka Ekanayake Anonymous Anonymous